Mga sis, may Custom JDM logo akong nakita sa clubcivic.com, sa US un. bali nagtanong ako kung magkano group buy ng wakaba stickers nila (ung sinasabit na may "suck"tion, lol) sabi nung contact dun,
"To New Zealand is $4 for 1 piece. Yes if you buy 15-20 pcs I will sell them for $5 each and shipping will be $5 for all pcs. Let me know exactly how many you want and I can set it up."
normal price is
$7 badges are "suck"tion cup variety, they hang on your window
$9 badges are magnetic variety, they stick on the body of your car
discount price natin kapag group buy 15-20pcs ay >>US$4<< akalain nyo un!!! lol
note in US$ not NZ$
so eto ung pwde natin pagpilian. maka 15pcs tayo na order ayos na.. or pwde din siguro mga 10++ bsta madaming order mas ayos para makuha natin ung very special offer na US$4/badge. lmao
contestant # 1
contestant # 2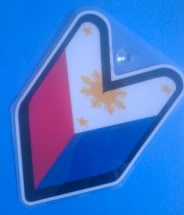 pwede din na kung anung gusto nyong design.. eto ung website
http://www.jdmbadges.com/
cheers mga girls..